Recipes for some Homemade face scrubs
In : HEALTH AND FITNESS
By
About :-11 months ago
Good quality facial scrubs are quite expensive. In case you are looking for an option using which you can save this expenditure and still have a good facial scrub then there is another option. Well, you can opt for making these facial scrubs on your own that too by using daily kitchen items. Besides being natural these homemade scrubs are very effective if used regularly and gives long-lasting results.
Recipes for some homemade facial scrubs are as follow:
1. Brown sugar and honey scrub
via: asian-fusion.com
Brown sugar is one of the best natural exfoliant available in the market.You can make this scrub by mixing mix brown sugar, honey, and some essential oils. Once prepared to apply this scrub on your skin. This scrub beside removing dead cells from your face also rejuvenates your skin. For making these scrubs flowing ingredients are required:
½ cup of brown sugar
1 tbs of olive or coconut oil
½ cup of honey.
Mix all the above ingredients and apply the prepared paste on the face in circular motion and just wash it with warm water.
2. Oatmeal Scrub.
via: deliciouslyella.com
Besides being healthy food oatmeal are good for skin also. Any available kitchen ingredient like milk, brown sugar or egg can be added to this scrub.
3. Cocoa and grounded coffee face scrub.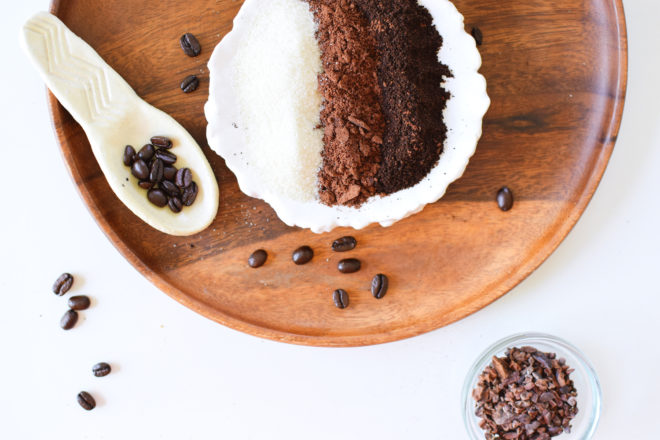 via: www.kaleandcaramel.com
For this scrub just add oil and honey to cocoa and ground coffee. This face scrub beside cleaning dirt and dead cells from face also helps in skin brightening. No matter whatever the skin type you can use this scrub.
4. Papaya and pineapple facial scrub
via: www.blossomjar.com
Pineapple and papaya juices are known for their exfoliating properties. Papaya and papaya are natural skin cleaner. However, people who have sensitive skin may avoid using this scrub as pineapple being citrus in nature may cause damage to your skin.
5. Almond milk scrub
This scrub can be made by mixing following ingredients:
½ cup of grounded almond
1/2 cup bentonite clay
2 tablespoon of organic milk powder.
Simply mix above ingredients and you will get an amazing facial scrub. For applying mix these dry ingredients with the little amount of Luke warm water or coconut or almond oil. Apply this almond milk scrub paste on your face and just let it dry. Later on, clean the applied scrub by using a clean washcloth and apply moisturizer.
Lactic acid in milk act as an exfoliator and almond helps in softening of the skin.


I am The H1